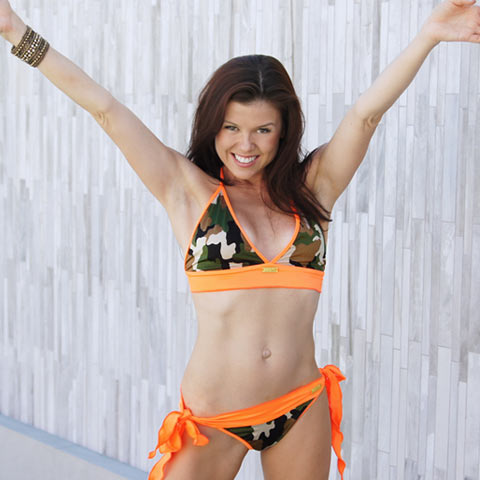 Camo Bikini Top with Neon Orange Trim
$120.00
Camo Bikini Top: Camo bikini top with neon orange ties, full coverage triangle halter bikini top style with side coverage. Neon orange neck ties with reinforced thickness for added neck comfort, finished at the ends with large gold metal beads. Thick neon orange rippled ruffle torso band ties at back. Fully lined in pink. Large gold Vixen tag at center front.
Camo Bikini Bottom
$110.00
Camo Bikini Bottom: Camo bikini bottom with flirty neon orange rippled ruffle waistband and ties, scrunch bikini bottom, tie side, fully lined in pink, large gold Vixen tag at front.
Compare
Compare
Camo bikini with Neon Orange ties is the hottest Camo bikini on the market. Not only is the fit fantastic as it molds to your body, the bright neon orange makes your tan really pop and makes you stand out in a crowd. This high quality Camo bikini is both strong and feminine. The neon orange ties paired with the camouflage bikini print, really give a flirty look. If you're concerned with the fit of most camouflage bikinis, don't worry, this camo bikini has wide ties which give a balanced look, while other string bikini styles are more revealing, making your hips feel bare.
For the perfect amount of coverage, while still feeling sexy and flirty, this is the camo bikini of choice for many women across America. This is the perfect alternative to an American Flag bikini for the 4th of July as well. While many women might we wearing a flag print, you will be different but still extremely patriotic in a camo bikini.