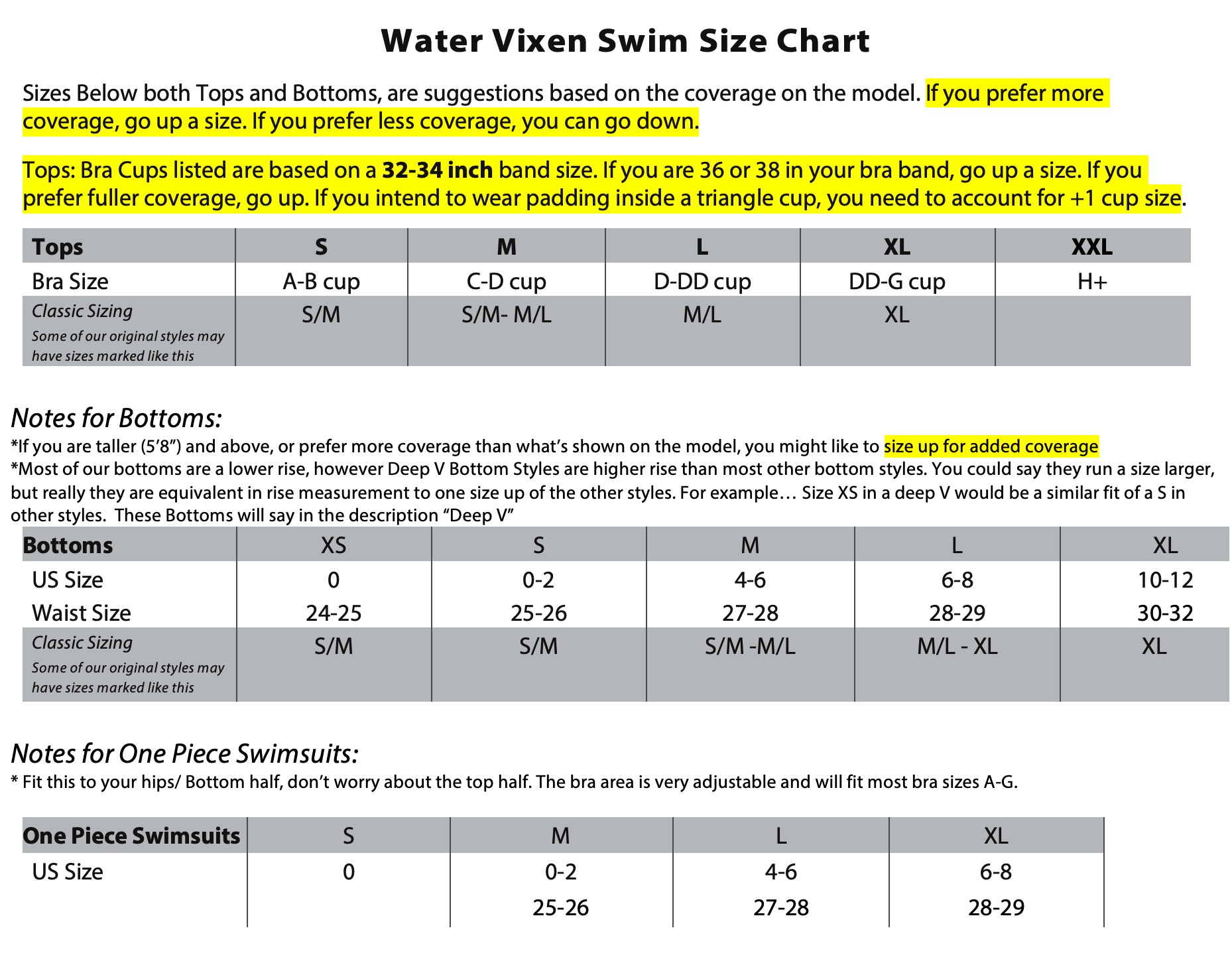 *Note* If you plan to wear pads in the triangle cups, keep in mind, the molded-cup bra pads will cause about 1 cup size less to fit inside the triangle. Keep that in mind if you're concerned about coverage, so you can go up in size to make room for the pads.

No More Tugging at Your Bikini All Day…
You've Got *Flawless Fit* on Your Side!
Contrary to popular belief, you do not need to be nervous when you wear a bikini!
The #1 Reason we are different is because we create swimsuits that are made to adjust to your body for a flawlessly flattering fit… no matter how you might fluctuate throughout the day …or the year!
No More Tugging at Your Bikini All Day… Get something that hugs you nicely… but doesn't pinch.
All of our Side Tie Bottoms Give the most adjustability, yet even our not-side tie bottoms have forgiving "no-dig" sides.
Our Tops are also made to be adjustable so that they fit up to 3 cup sizes per size.
Rest assured, we have something to fit you right!
If you're not sure; just click the chat button below and we'll help you!
Read More About Our Company
PICK YOUR STYLE: SHOWCASE YOUR ASSETS
"I Love Water Vixen because all their stuff is so Glamorous, so different & So Vegas!"

"I Love Water Vixen bikinis because they last and last. This one Ive had for 4 months now, and I wear it at least every week. I have another I've worn for over a year. They really hold up and don't fall apart. I wear it all the time, and they last and last. I definitely get my money's worth out of it.."

"It's Crazy the Amount of compliments and attention I get when I wear my Water Vixen Swim bikinis. They fit AMAZING!!!! Plus, I Love the Slim Fit Triangle Top. I'm a DD, and it covers the important parts, without being a total full-coverage thing. I get more compliments in this than in anything else I have. It's crazy. You'll be the center of attention instantly.."

"I'm 3 Months Pregnant, and I can Hide it in this. I Love it."